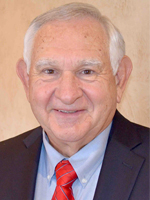 John P. Livings, CPA
Office: (334) 239-8065
John Livings became president and founding principal of the company in 1986. For over 40 years, he has been a CPA in Montgomery providing a full range of accounting services to closely-held businesses in all types of industries as well as services to individuals.
John is currently serving on the board of Dixie Electric Cooperative where he also served as President, Vice President and Secretary Treasurer. He was past president of numerous organizations some of which include the following: Condo Owners Associations of Aqua and Summit Condominiums in Panama City Beach Florida; Lighthouse Condominium in Gulf Shores, Alabama; Tops'l Condo Association in Destin, Florida; Wynlakes Homeowner's Association, and Pike Road Community Center. During his career, John has also served on various United Way committees in the Montgomery area.
John is a member of the American Institute of Certified Public Accountants and Alabama Society of Certified Public Accountants. He attended the University of Alabama Extension Center at Montgomery.
He has served as president of the Montgomery Chapter of the Alabama Society of CPAs. He was also a member of the governing council of the Alabama Society of CPAs in addition to serving on various professional committees.
John is an avid golfer who also enjoys hunting and spending time with his wife, two children and four grandchildren.